Belanger's FreeStyler® is the most advanced in-bay soft touch automatic available in the industry! Every aspect of the FreeStyler was carefully designed to deliver the most comprehensive combination of performance features available in the market today!
With the FreeStyler operators can quickly access the uniquely concealed onboard components through the side and back panels, or make fast and easy finger-tip adjustments to the equipment from easy to reach onboard carriage controls. Engineered with premium quality components like variable frequency drives, state-of-the-art motors and gearboxes for increased life-cycle and decreased operating costs, the FreeStyler delivers unrivaled durability.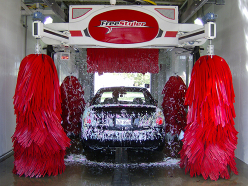 To further enhance the customer's overall car washing experience, the FreeStyler is engineered with an overhead gantry design. This overhead design not only provides an open and inviting bay appearance but also ensures smoother operation and less potential for customer loading error.